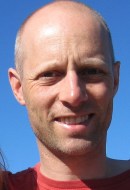 I am a web developer and technical architect based in Melbourne, Australia, working for Virgin Pulse (formerly "Get The World Moving").
Over the past 9 years I have grown my company's major product offering from a small website with 40,000 Australian users into a solution that serves half a million users worldwide. It is now a distributed, highly available, cloud-hosted service provided via multiple websites and mobile apps.
I know how to operate motivated, productive and successful development teams, from my personal experience of implementing agile practices and continuous delivery.
I design resilient, cloud-based solution architectures, with specific deep knowledge of the Microsoft Azure platform.
My programming skills are primarily ASP.NET using C#, regularly extending into HTML, Javascript, CSS and SQL.
I have a particular passion for coding that goes the extra mile - be that fantastic usability, ultra fault tolerance, efficient high scaling, or whatever the next challenge I face calls for.
I attend various tech meet ups in Melbourne and I'm a long standing member of my local school e-Learning sub committe, helping them navigate the tricky waters of modern technology.